Regular price
Sale price
$107.88
Unit price
per
Sold out
Highlights

World's first self-cleaning dog toothbrush!
The more your dog chews, the cleaner their teeth
Patented design cleans teeth and gums 3 different ways
Tooth-shaped openings scrape away tartar and plaque from teeth
Interior bristles brush teeth clean
Exterior nubs massage your dog's gums
Built-in treat dispenser keeps your dog engaged
Great for dogs of all sizes!
Ultra-strong, super-durable rubber material
Dishwasher-safe, phthalate-free, and BPA-free
Invented by dentist Dr. Allen Coopersmith and his hygienist wife
Measure approximately 11-inches long X 2-inches wide at its longest points
Not intended for aggressive chewers
Description

Just like people, dogs require daily oral hygiene for healthy teeth and gums. But trying to brush your dog's teeth the old-fashioned way with a dog toothbrush and toothpaste is nearly impossible. Dog's hate having their teeth cleaned. Until now! BrushBone is the world's first self-cleaning dog toothbrush — the more your dog chews, the cleaner their teeth! Give your dog BrushBone daily to help keep their oral hygiene on track between doggy dental visits. It cleans your dog's teeth and gums in three different ways. Tooth-shaped openings gently scrape away tartar and plaque while the hidden bristles inside brush your pet's teeth as they play. Its exterior nubs even massages gums! Your BrushBone should be replaced once a month or when starts to show signs of wear. Having difficulty attracting your dog to BrushBone? Just pull out the interior treat dispenser and add cheese or peanut butter — or any of your dog's favorite treats! You can even insert a dental stick! They'll never stop chewing because they want their treat that's inside! Whether your dog is big or small, the BrushBone is loved by all and is made of ultra-strong, heavy-duty rubber. Give your pet the fun way to get clean teeth with their very own BrushBone!
View full details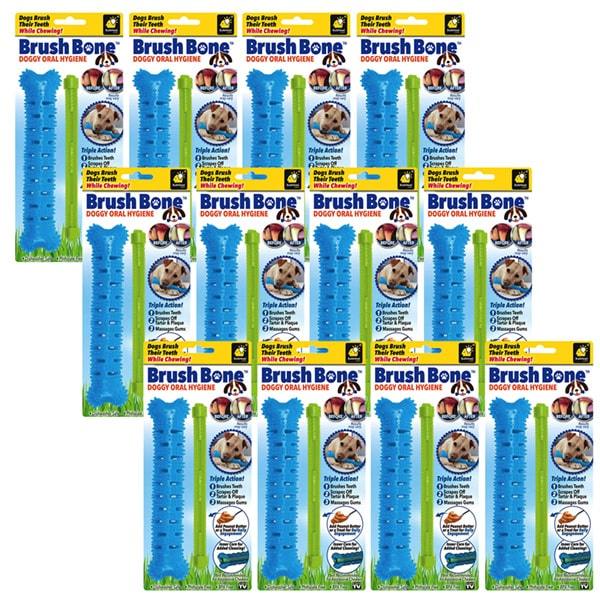 Frequently Asked Questions
WHY IS THE BRUSHBONE™ THE VERY BEST DOG TOOTHBRUSH?

Invented & designed by a dentist and hygienist who loved dogs and knew that there had to be a better way to brush a dog's teeth. The BoneBrush™ is a self-brushing toothbrush for dogs. While they chew, the nubs of the outer sleeve massage gums while the slots scrape plaque and the inner core of multi-directional rubber bristles cleans teeth.
** FDA food-safe and durable plastic with no BPA, latex, or impurities

** Patent-pending
HOW SHOULD I INTRODUCE THE BRUSHBONE™ TO MY DOG?

praise your dog every time he chews it. Take it away when he is finished chewing so your dog will look forward to receiving it over and over.
WHAT SHOULD I DO IF MY DOG WILL NOT CHEW IT?

Applying pet-safe food or flavors to the BoneBrush™ may make the BrushBone™ more attractive to your dog.
HOW LONG DOES THIS TOY LAST?

For optimal use, change the BrushBone™ as frequently as you would change your toothbrush.
WHAT SHOULD I DO IF MY DOG TEARS OR BREAKS OFF A PIECE OF THE BRUSHBONE™?

Always monitor your dog while using the BrushBone™ and immediately remove it from use if the endcaps become loose or break up to avoid the risk of choking or bowel obstruction from swallowing large pieces.
CAN BRUSHBONE™ CRACK A DOG'S TOOTH?

No.
HOW CAN I BE SURE THAT THE MATERIAL IS SAFE FOR MY DOG TO CHEW?

BrushBone™ is made from a durable, FDA food-safe rubber that is BPA-free and phthalate-free.
CAN I USE TOOTHPASTE WITH MY BRUSHBONE™?

Yes, but only toothpaste made for dogs that is recommended by your veterinarian. Hint: use a small amount on the outer sleeve or in the inner core of the BrushBone™.
HOW DO I CLEAN MY BRUSHBONE™?

We recommend you clean your BrushBone™ with soap and running water. However, it is also top-shelf dishwasher safe.
HOW CAN I BE SURE THAT MY DOG IS GETTING THE ABSOLUTE BEST DENTAL CARE?

Take your dog to the vet for regular dental care
DOES BRUSHBONE™ REPLACE TAKING MY DOG TO THE DENTIST?

Dogs need regular dental care. The BrushBone™ helps clean their teeth and gums and is intended to complement a program of regular dental care for your pet as advised by your veterinarian. The BrushBone™ does not replace that program.
Choosing a selection results in a full page refresh.