OFFICIAL SITE RUBY SLIDERS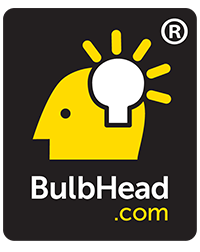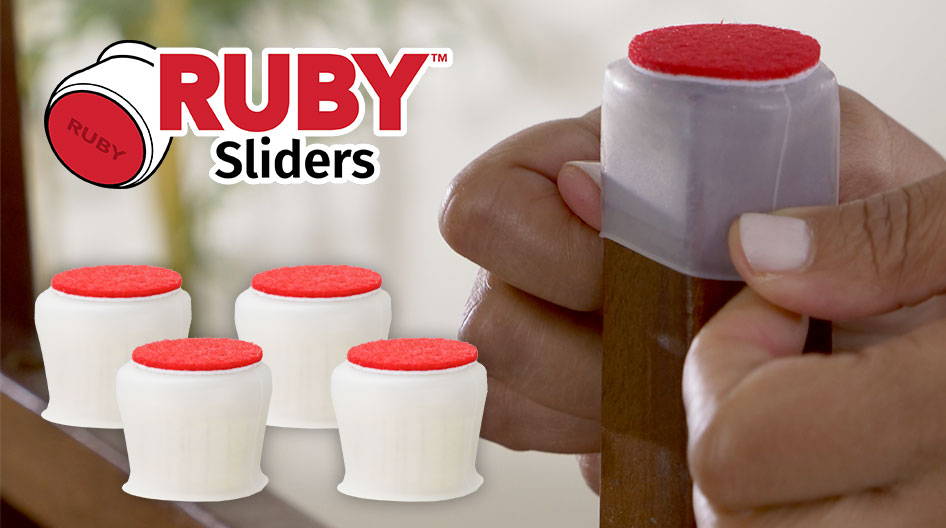 Your furniture WILL scratch your floors.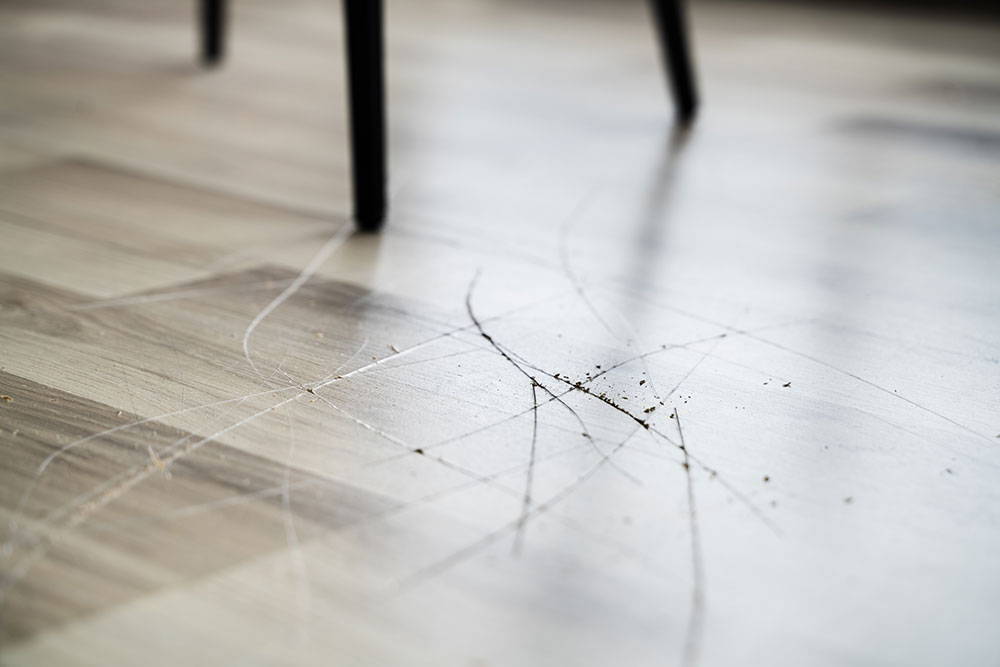 Your wood floors look beautiful and were very expensive to install. Unfortunately, your chairs and furniture WILL scratch them. The reason is that even the best furniture legs come with no protection at all or use hard plastic pads. Either will scratch your floors.
Ceramic, porcelain and linoleum scratch too!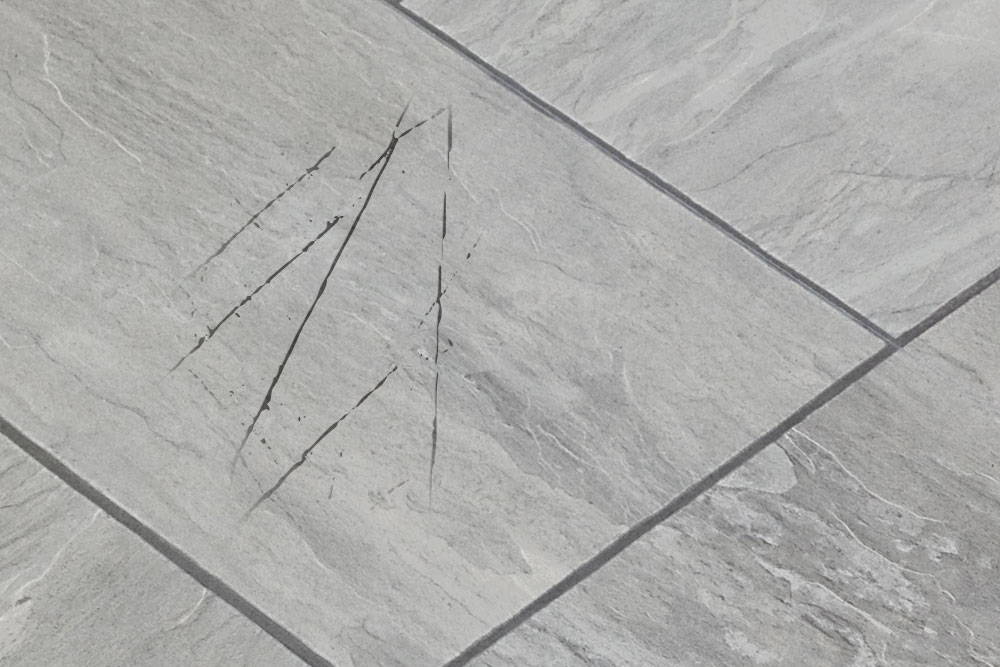 Scratches happen over time.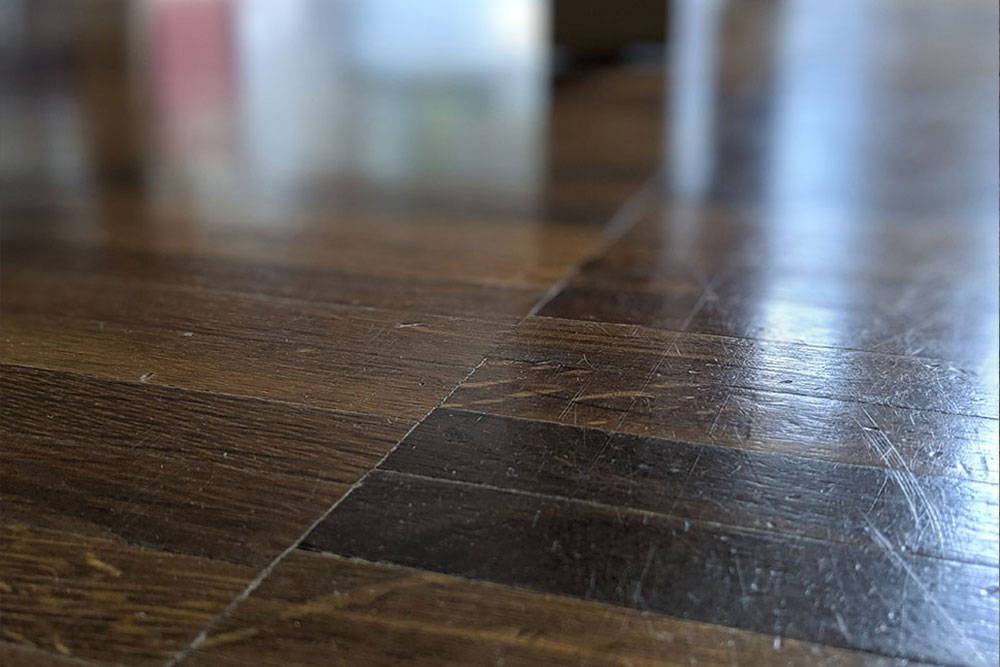 Sometimes a chair or furniture leg will scratch your floor in seconds. However, in most cases, daily use of chairs will cause hairline scratches each day. You may not even notice them for weeks or even months. But guaranteed, one day you will notice a path of scratches under each chair leg.
The problem with other sliders.
Felt sliders are cheaply made. They fall off or wear down quickly. They're a hassle to constantly replace, but even worse, you may not even notice until it is too late and your floors are already damaged.
Plastic sliders, the type that furniture companies often use, are hard and scratch your floors.
---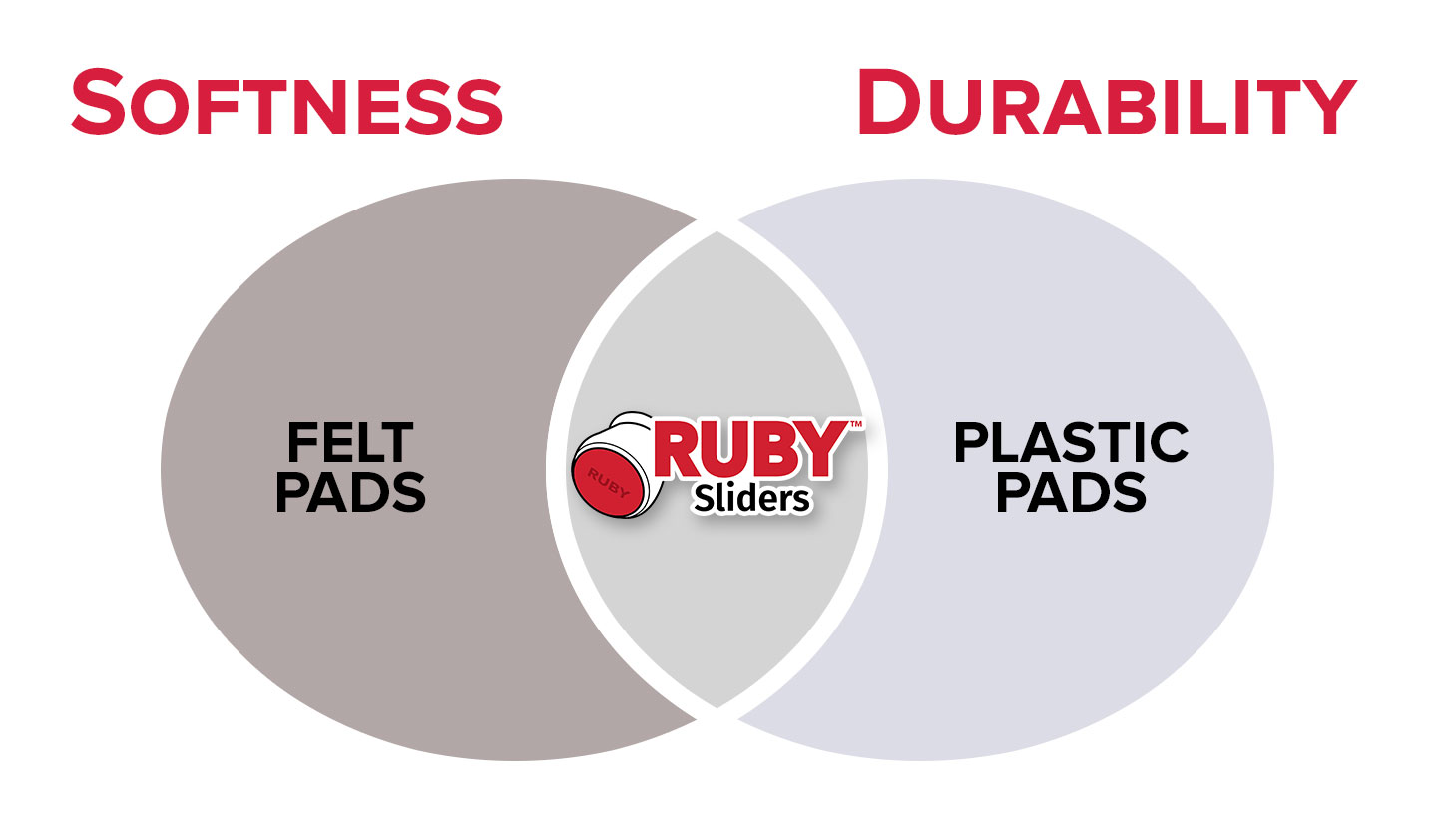 1. Nano-weave felt.

Our felt has been engineered with proprietary nano-weave felt and

laboratory tested to last

for years.

2. Super glue.

Ordinary felt pads use

peel

and stick glue that's weak because it's designed to

peel

off. We use

permanent

super glue to make sure the pads can never, ever fall off!

3. Flexible sleeve advantage.

• Stretchable to

fit

almost any size or shape of furniture leg.

• They

stay put

.

The grippy materials keeps them in place.

• Protect baseboards. Many time stools and chairs are pushed against walls or countertops. Unprotected legs damage the baseboards.

Flexible

sleeves help

prevent damage to baseboards and to chair legs!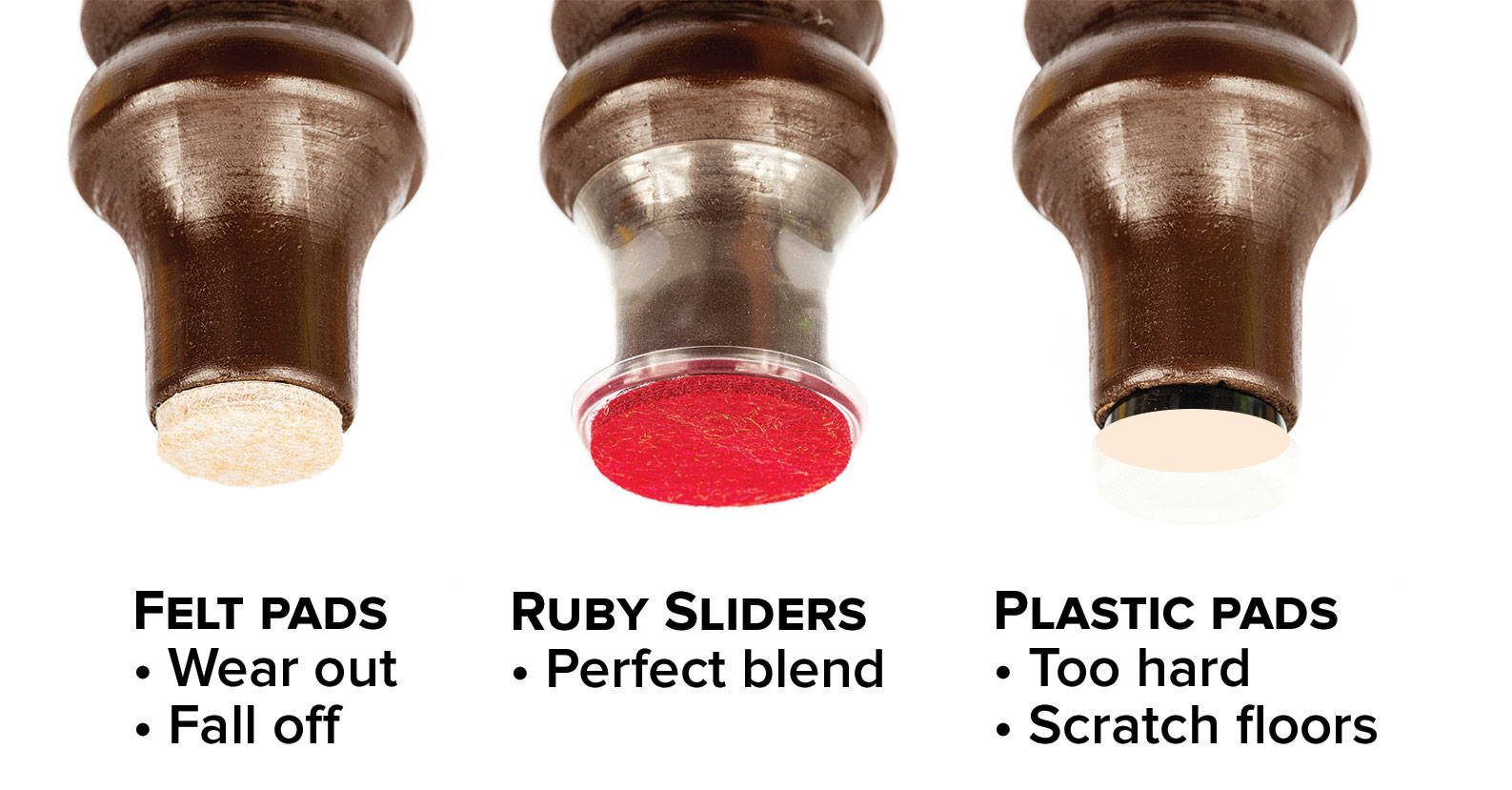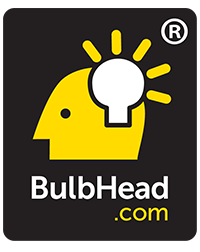 Thanks to amazing customers like you, Ruby Sliders have become extremely popular. Because we are making so many we are able to save money on manufacturing and pass the savings on to you! Now get your Ruby Sliders for as low as 89 cents each. Plus shipping is absolutely free!
Like most successful products, you will soon find copycats on shopping sites like Amazon.com, Walmart.com and eBay.com. These may be cheaply made so they can sell at a cheaper price. To make sure you are getting the original Ruby Sliders, look for our brand and our distinctive ruby red colored felt. Also look for the word Ruby embossed on the bottom of every one of our pads.
Our Family's Favorite Five

1. Family run since 1983.

2. Your support is heartfelt.

3. Making your life fun & easy is our passion.

4. We are proud to serve you.

5. Happiness guaranteed or your money back.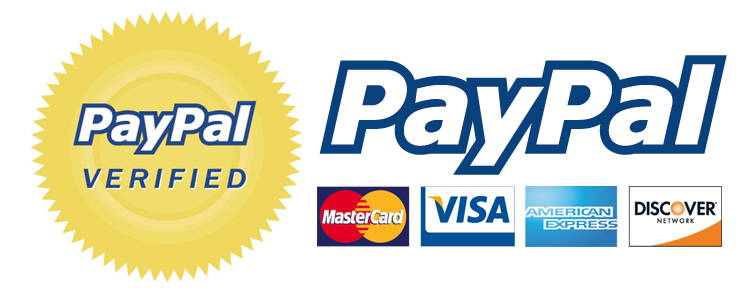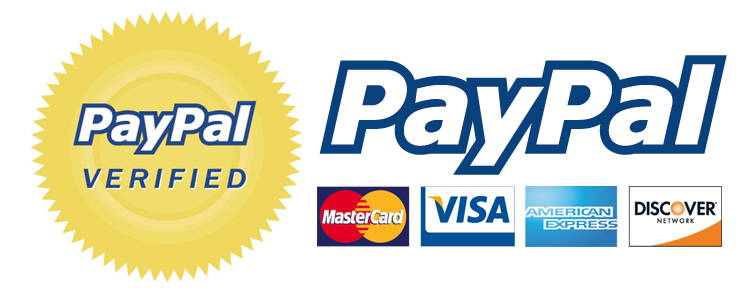 Quality sliders for a good price
"Easy to install and my kitchen chairs slide quietly now and NO MORE SCRATCHES!!"

"We got Ruby Sliders after we saw scratches on our brand new floors. They are doing their job, protecting my beautiful new floors!! Only wish I had found them sooner."

Would give 6 stars if I could!
"These sliders are amazing!! I got the value pack and put them on my dining table and chairs, my husband's recliner, the sofa, and our bed and now I can move everything to sweep and mop by myself without asking for help!"