Egg Sitter Support Cushion
Regular price
Sale price
$39.99
Unit price
per
Sold out
Highlights

Absorbs pressure points

Allows proper air circulation

Retains shape

Strong & durable design

Made of ultra-flex polymer

Unique honeycomb construction

Fits most chairs

Measures 15.5-inches X 14-inches X 1.5-inches
Description

Most chair cushions do a mediocre job at supporting your backside. But they usually are bulky, get too hot, and have a hole cut out in the cushion to accommodate your tail bone. The Egg Sitter® support cushion supports your backside so well that you can sit on an egg without breaking it! Sit on the hardest surface and still feel comfortable. Egg Sitter® has a honeycomb design made of ultra-flex polymer that stays cool to the touch, allowing air to circulate. It collapses in on itself to absorb pressure points. Use on your chair in the dining room, in the car, and at the office. It's time to say goodbye to sore muscles from sitting all day at your computer or lower back pain from driving long trips. Egg Sitter® includes a non-slip, washable cover. For optimal support, start sitting on an Egg Sitter® support cushion.

 * Packaging May Vary
View full details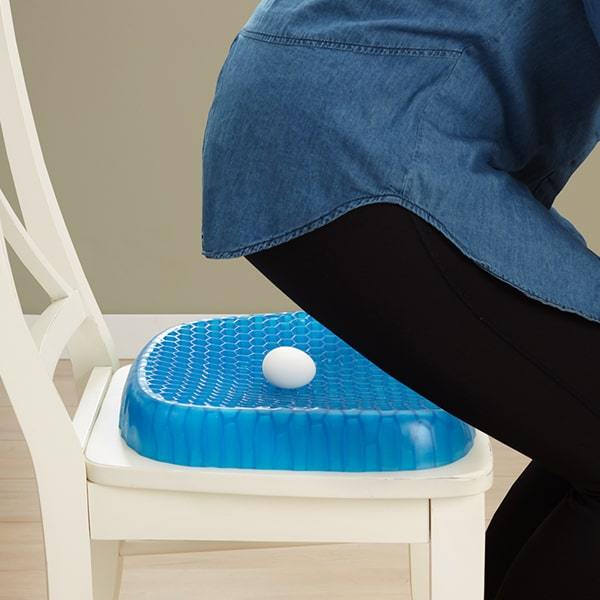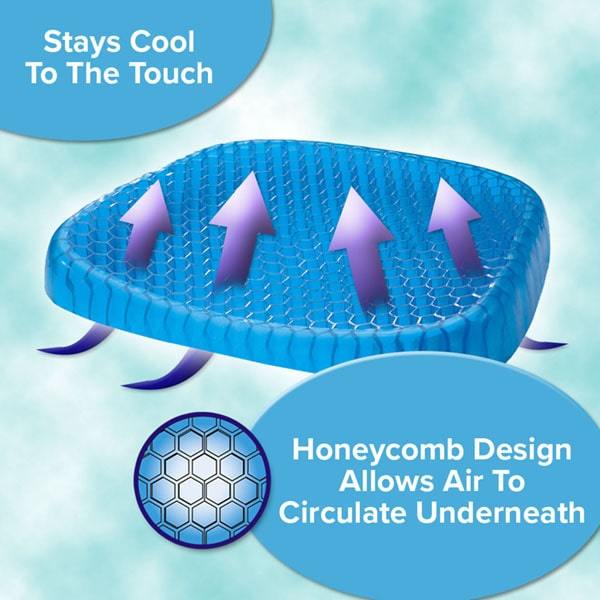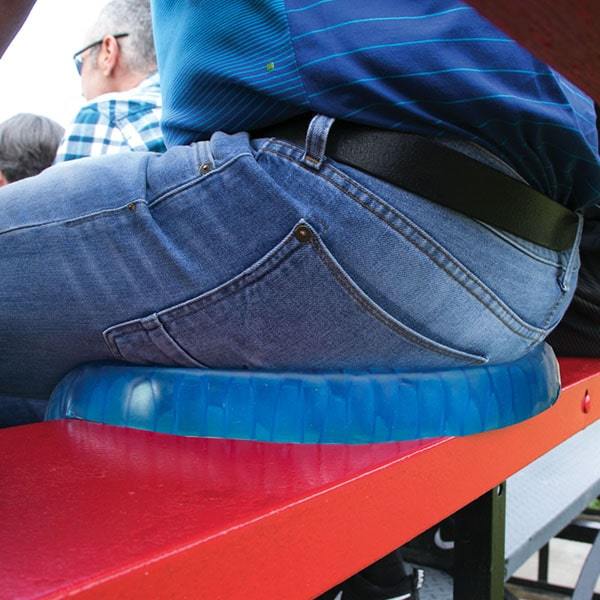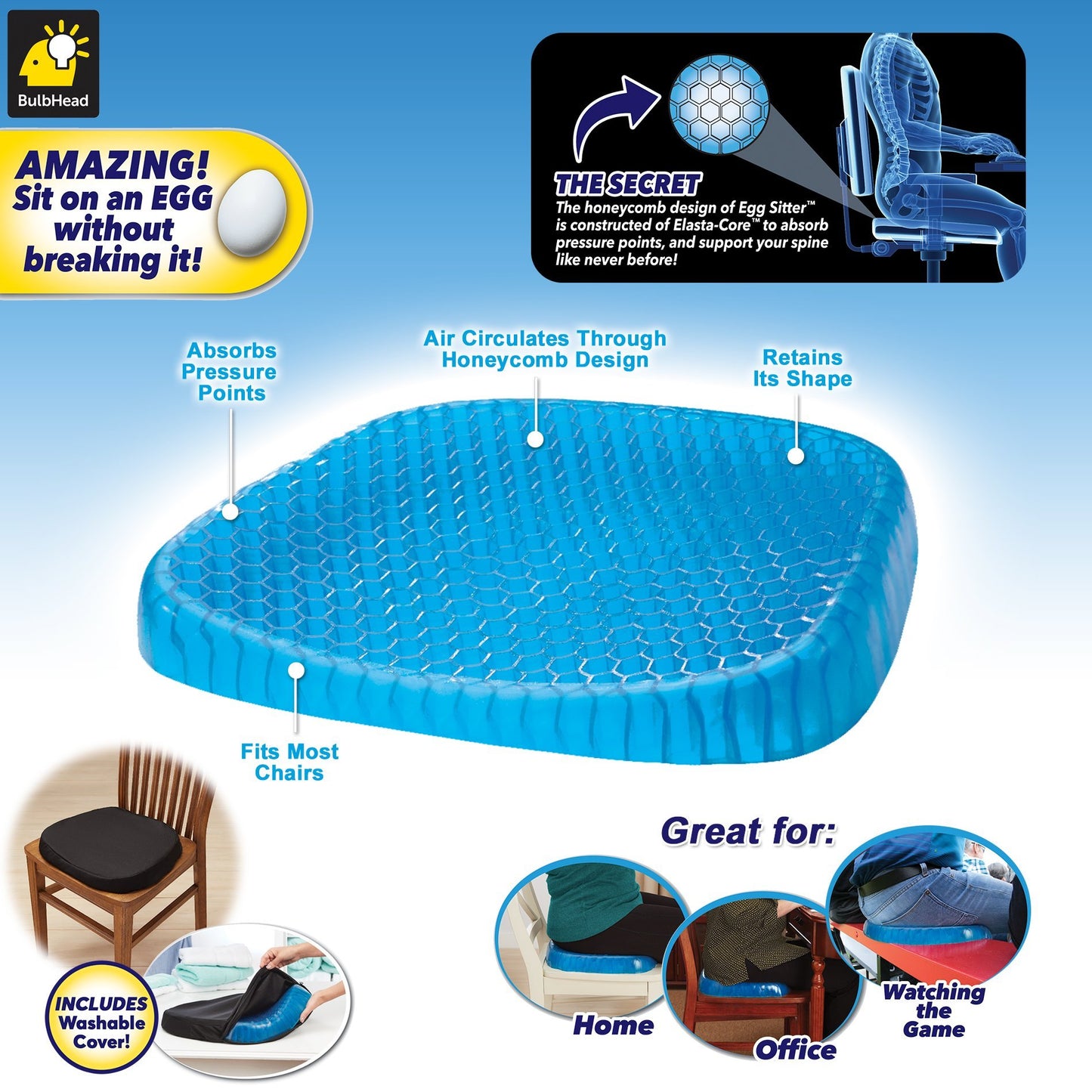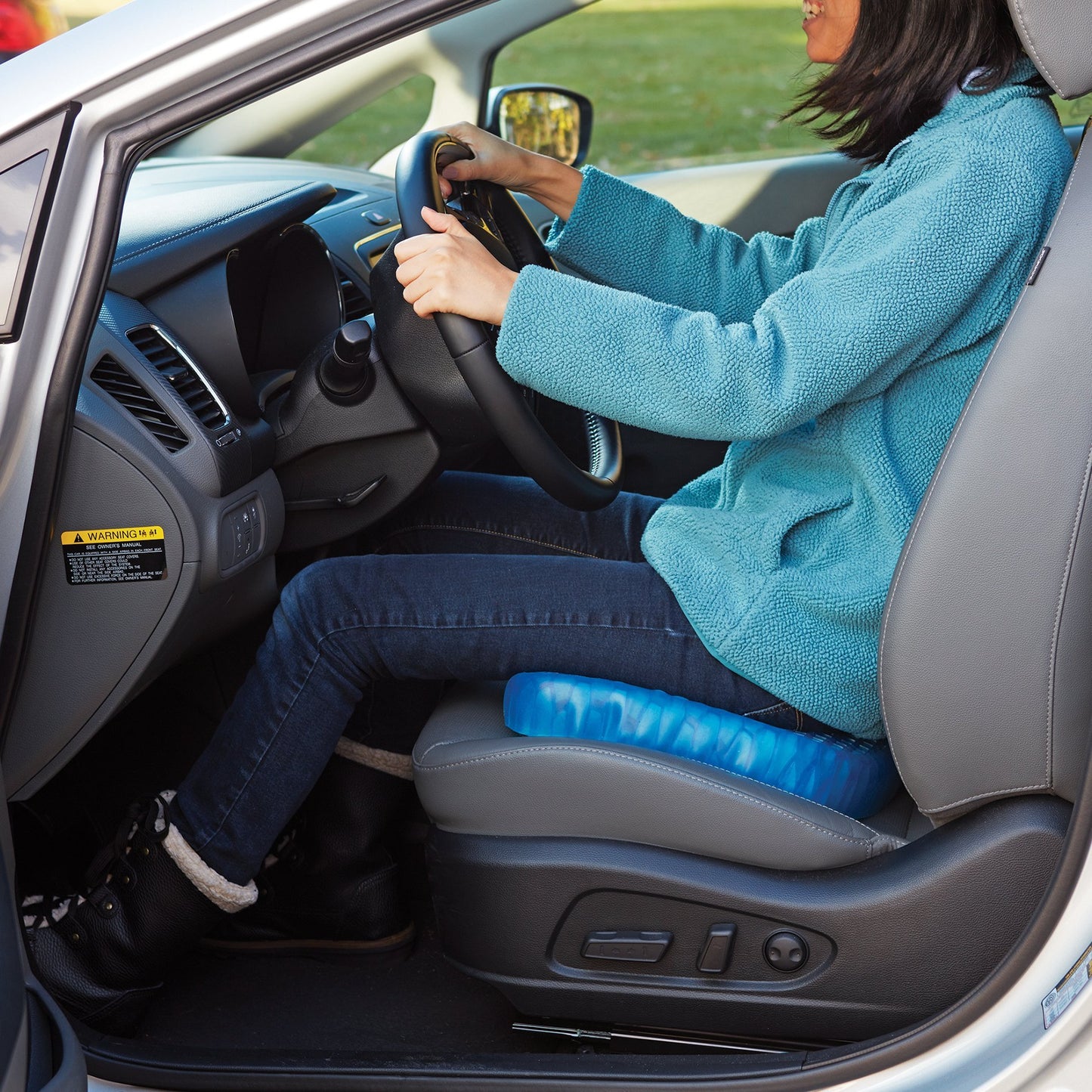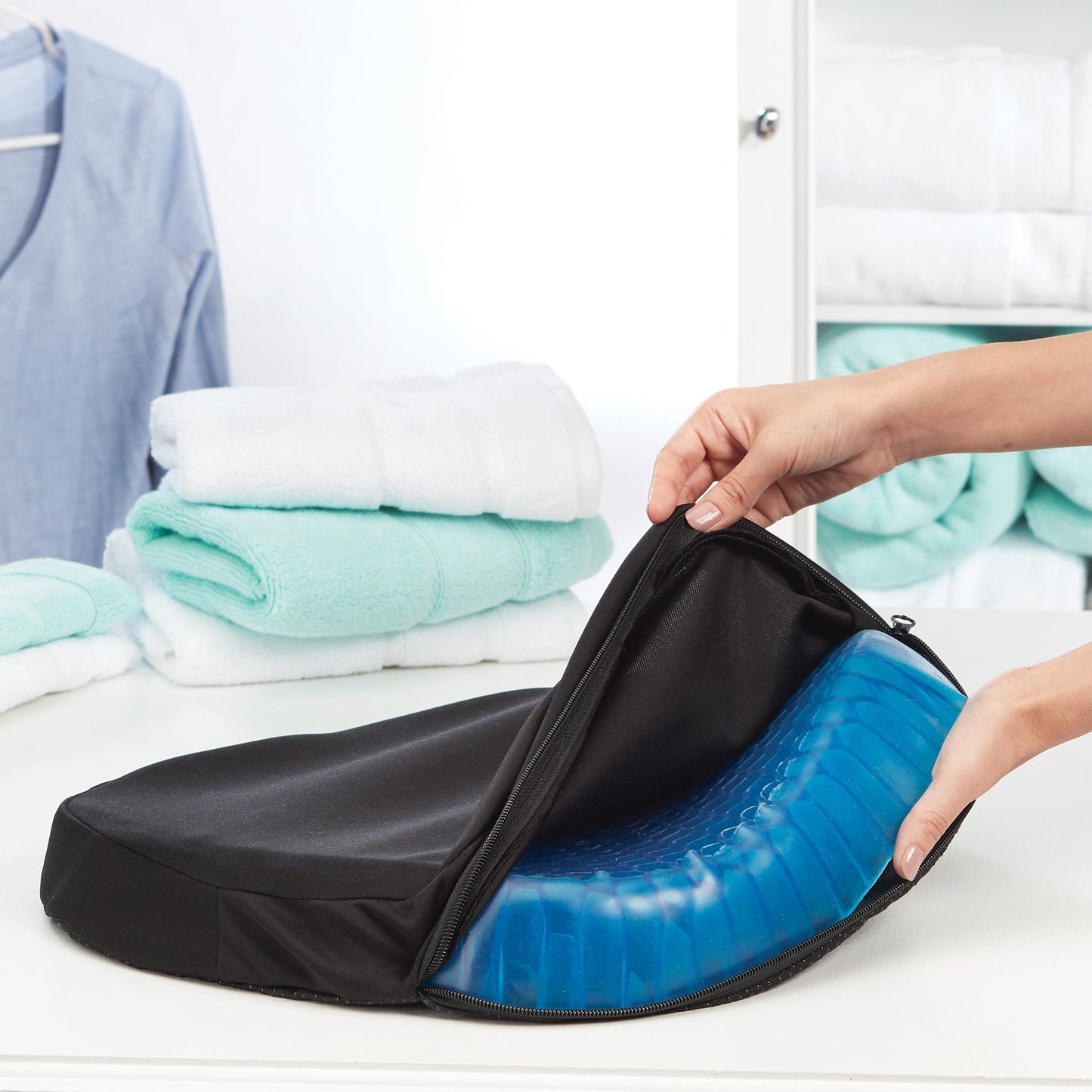 Frequently Asked Questions
HOW LARGE IS EGG SITTER®?

Egg Sitter® measures 15.5-inches X 14-inches X 1.5-inches.
WHAT IS EGG SITTER® SUPPORT CUSHION MADE OF?

Egg Sitter® is made from an ultra-flex polymer material that cradles your backside.
WHAT IS THE REMOVABLE COVER MADE FROM?

Egg Sitter®'s removable cover is made of a soft polyester blend fabric.
IS THE REMOVABLE COVER MACHINE WASHABLE?

Yes, Egg Sitter®'s removable cover is machine washable.
DOES EGG SITTER® LOSE ITS SHAPE?

After continued use, Egg Sitter® will not lose its shape.
IS THE CUSHION NON-SLIP?

If you chose to use Egg Sitter® with or without the removable cover, it will not slip on your surfaces. The support cushion will not slip on your chair if you use it without the cover. The bottom of the cover has little rubber dots that keep the fabric in place against your chair.
DOES EGG SITTER® ADD SIGNIFICANT HEIGHT TO YOUR SEAT?

While Egg Sitter® does lift you about an inch, it does not create a significant difference in height. If you're looking for a booster seat with support cushion benefits, Egg Sitter® may not be for you. However, if you're looking a minimalist support cushion that won't raise your height too much, Egg Sitter® needs to be on your must-have list.
IS EGG SITTER® AVAILABLE IN OTHER SIZES?

Currently, Egg Sitter® is available in one standard size only.
HOW DOES EGG SITTER™ WORK?

Egg Sitter® absorbs pressure points from your backside. Rather than pushing against your tailbone, Egg Sitter® cradles it, creating a soft and sturdy environment.
WHAT TYPES OF PAIN IS EGG SITTER™ GOOD FOR?

Egg Sitter® alleviates pressure put on your tailbone by cradling it in the semi-firm gel cushion. Irritation and/or pain to your backside and lower back from sitting for long periods of time may be helped with Egg Sitter®. Always consult your physician for medical advice prior to use.
WHAT IF I'M NOT SATISFIED WITH EGG SITTER®?

Egg Sitter® has an extended 10-year guarantee. Should anything happen to your Egg Sitter® under normal usage simply return the unit and you will receive your money back, less shipping and handling and/or depreciation. Mistreatment, misuse, and intentional abuse of Egg Sitter® is not covered under the 10-Year Extended Guarantee.
91%
of reviewers would recommend this product to a friend
Choosing a selection results in a full page refresh.